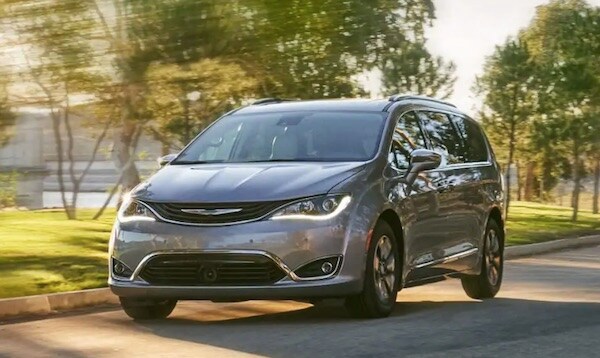 The 2019 Chrysler Pacifica is a quintessential minivan that keeps its eyes on the future while also building on Chrysler's successful past. It gets terrific fuel economy, especially for a minivan, and even offers a plug-in hybrid option. The ride is as quiet and smooth as it is environmentally friendly, and the safety features are second to none.
The fuel economy isn't the only thing that makes this minivan groundbreaking, as it also offers nimble maneuverability that feels like something you'd expect from a much smaller car. The interior room, cargo space, and Uconnect Theater system make this vehicle perfect for daily errands and longer road trips alike.
Chrysler Pacifica Models
The 2019 Chrysler Pacifica gives drivers a few different options to make sure there's something for every family. The 2019 Chrysler Pacifica L and LX trim levels focus more on function. They include all of the necessities, but keep their prices low (both start between $20,000 and $30,000).
To get access to more features, drivers may want to look into the 2019 Chrysler Pacifica Touring or Chrysler Pacifica Limited. These models still offer the same great function drivers have come to expect from, and the entertainment and interior touches are better than ever. At the Limited trim level, drivers and passengers can enjoy some of the best entertainment features available on the market such as:
13 total Alpine brand premium speakers that produce 506 watts of stereo output, which makes road trips a blast for those who love the superior audio quality.
Luxurious touches such as:
A heated, leather-wrapped steering wheel
A large color touchscreen
If you're especially interested in reducing your carbon footprint, the 2019 Chrysler Pacifica Hybrid may be the perfect vehicle for you. It can go up to 33 miles on electric power, which greatly reduces fuel consumption during daily driving. The interior feels luxurious, and it comes loaded with features to maximize convenience and comfort.
Chrysler Dealership Miami, FL
Planet Dodge Chrysler Jeep Ram is your local Chrysler dealer. Stop by our beautiful showroom if you're looking for a new Chrysler Pacifica for sale, our knowledgeable staff will answer all of your questions. Take the 2019 Pacifica for a test drive to make sure it's just the right vehicle for you and your family. Contact us today to learn more.