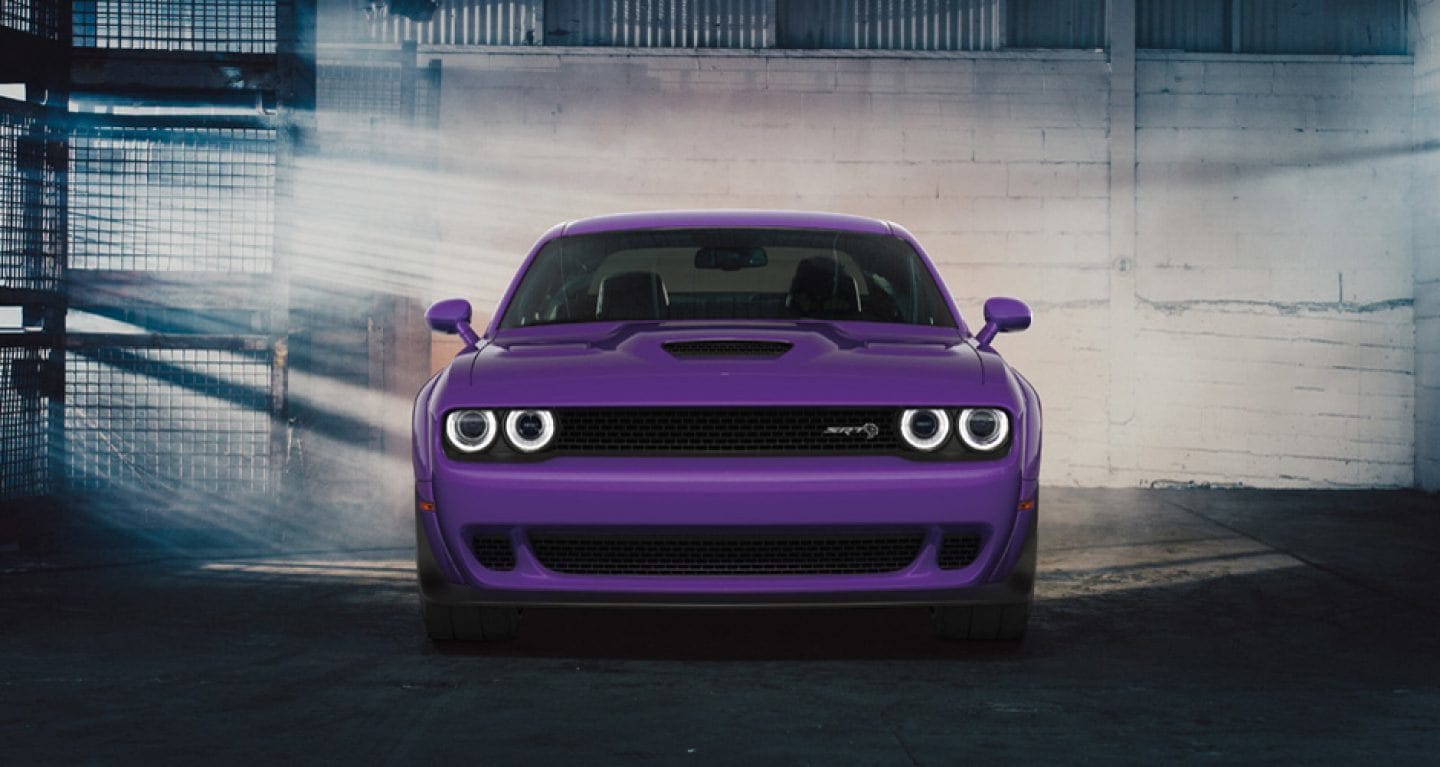 Have questions about the
Challenger
? Here are our most frequently asked ones.
How Much Horsepower Does the Dodge Challenger Have?
This is a common question because drivers are drawn to the Challenger's aggressive looks and superior performance more than anything else. The
2018 Dodge Challenger
can get anywhere from 305 to 840 horsepower depending on how it's outfitted. Even with the base engine the new Challenger has plenty of get up and go. Once you upgrade the engine, you get into territories that are normally reserved for the race track.
What Kind of Gas Mileage Does the Dodge Challenger Get?
The 2018 Challenger can get up to 19 miles per gallon city and
30 miles per gallon highway
. This is surprising to some drivers who aren't used to seeing this kind of sensible fuel economy from a sports car. In fact, it almost sounds too good to be true, but it is. Take the Challenger for a test drive, and you may be as impressed by the fuel efficiency as you are by the acceleration. The Challenger SRT Demon can even save more fuel with its Eco Mode. This limits the horsepower to 500, which is still more than enough for most situations. The car also starts in second gear and short-shifts to save gas.
What Is the Dodge Challenger Demon?
The 2018 Dodge Challenger SRT Demon is the National Hot Rod Association's certified fastest quarter-mile car in the world. It gives drivers a mindblowing 840 horsepower and 770 lb-ft of torque with the Demon Crate package. It runs best on high-octane race fuel, which is convenient because this car is best suited for the race track.
How Fast Can a Dodge Challenger Go 0-60?
Dodge has reported that the
Challenger SRT Demon
can go from zero to 60 miles per hour in only 2.1 seconds. It only takes another three seconds to reach 100 miles per hour, and this car can travel a quarter of a mile in only 9.65 seconds at 140 miles per hour. This is all on a prepared drag strip, which is just about the only place you can safely unleash all the 2018 Challenger's power.
Is the Dodge Challenger Safe?
The 2018 Challenger allows drivers to hit unbelievable speeds in a hurry, but Dodge has made a great lineup of safety features available to
keep drivers and passengers safe
. Equip it with automatic high beam headlight control, a rain-sensing windshield wiper system, adaptive speed control with an automatic transmission, and forward collision warning. Other options include a rearview camera and blind speed monitoring, which can come in handy for all the obvious reasons.
Is the 2018 Dodge Challenger Available as a Coupe?
Yes, it is. Now that the Viper is a thing of the past, the Challenger is the only coupe Dodge offers. While we'll miss the Viper, the 2018 Challenger coupe is more than enough to keep us satisfied. The two-door look helps the Challenger achieve an even sportier look than ever before.
Does the Dodge Challenger Come with All Wheel Drive?
The 2018 Challenger's default is a sporty two-wheel drive, but all-wheel drive is available. This comes in handy if you don't want to let Miami's rainy season slow you down on the roads.
What Kind of Transmission Does the Dodge Challenger Have?
The 2018 Challenger comes with a six-speed manual transmission to give drivers optimal control over acceleration and handling. The Dodge Challenger is also available with a capable eight-speed automatic to make city driving easier and deliver efficient shifting that's easier on the gas tank.
Is the Dodge Challenger Comfortable?
The exterior styling of this car certainly brings up nostalgic feelings and takes the viewer back to the glory days of American muscle cars. Luckily, the experience of this pony car is more comfortable than it was in days gone by. The 2018 Challenger offers a smooth ride and a well-appointed cabin for maximum comfort. Take advantage of the great technology features, too, and you'll enjoy modern infotainment with classic power.
Is the Dodge Challenger Worth it?
The Dodge Challenger starts at under $30,000, making it a bargain for all that style and performance that will make your friends so jealous. Upgrading the vehicle carries increased costs, but Dodge has priced every level of this car extremely competitively. If you're after an unbeatable performance at a reasonable price, the Challenger should be your next car. It enables drivers to blow past expensive imports that cost several times more.
Where Can I Buy a Dodge Challenger in Miami?
The best place to buy a Dodge Challenger in the greater Miami area is at
Planet Dodge Chrysler Jeep Ram
. We specialize in selling high-quality American cars in southern Florida. Contact us today to ask our knowledgeable staff any more questions you may have. We offer great financing deals and every day low prices!