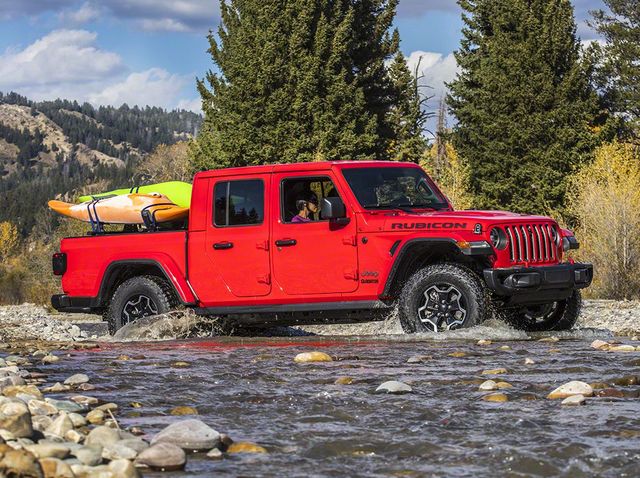 There are lots of reasons to be excited about the new
2020 Jeep Gladiator pickup truck
. It's everything we love about classic Jeep design, now available with a truck bed. Of all the midsize trucks on the market, this is the absolute leader for off-road capabilities. It's sure to take your driving experience to the next level, as it's loaded with state of the art features. The following 12 facts are just a few of our favorite things about the new Jeep Gladiator.
1. It Has a Forward-Facing Trail Camera
Backup cameras are a popular feature for just about every new vehicle because they can help increase visibility when in reverse. The innovative engineers at Jeep took this concept to the next level by putting one on the front of the truck. You can use this to see exactly where your tires are aimed, which will come in handy as you navigate a tight trail that's loaded with obstacles.
After all, some things are too big to go over even when you have a Jeep. The most obvious risk to a front-facing camera is that it can get covered with mud when you're forging streams and plowing through difficult off-road conditions. Jeep thought about this, too, and your camera can clean itself off– refresh your vision easily with the push of a button.
2. Hell or High Water
We already know Jeep vehicles were created to get people over some of Earth's most intimidating landscapes, but how will it do in water? It turns out that even wet conditions won't do much to slow down the new Jeep Gladiator. It has nearly a foot of ground clearance, which will help you have peace of mind that you can get over unseen obstacles at the bottom of the water.
Furthermore, it's capable of getting through creeks, streams, or standing water that's up to 30 inches deep. State of the art waterproofing helps it accomplish that feat, and the addition of a snorkel will help it go even deeper. This special air intake feature will extend up almost to the roof of the vehicle, so you'll likely be able to keep your Jeep Gladiator moving as long as you're not totally submerged.
3. Safe and Secure
The 2020 Jeep Gladiator comes with over 80 standard and available safety features built into a tough body. For intense trail runs or driving in a busy city, the safety technology can be a real lifesaver. Drive with complete confidence knowing that the world's most advanced automotive technology is watching your back (and your sides, and your front).
In the event that even active safety features can't prevent an accident, you'll be prevented by a chassis of high-strength steel. It's been carefully engineered to help direct the force of impact away from the cabin, so the people inside will experience as little risk as possible. This truck doesn't just look tough, it's built like a tank to withstand almost anything life can throw at it.
4. Rugged, Yet Comfortable
Don't let the tough exterior fool you– you aren't sacrificing the comforts of home when you ride in a 2020 Jeep Gladiator. Every one of these trucks will come standard with modern technology like push-to-start ignition, which hasn't always been popular in Jeeps. The cabin was also crafted to deliver maximum comfort– you'll be in a swanky setting no matter where you take the Gladiator, and your technology will go with you too.
5. Smart Storage
Sure, it has a pickup bed, which gives you the ability to haul just about anything you'd ever need. That's not the only way in which this one of a kind pickup truck lets you load it up with gear for the journey. The people behind Fiats, Chryslers, and Jeeps are known for finding creative solutions to maximize every inch of space, and their capabilities are on full display here.
You can find a hidden storage bin by flipping the rear seats up, and there are even more unique ways to customize your Jeep Gladiator to your lifestyle. For example, add an aftermarket bike rack that sits on top of sliding drawers, and you'll have room for everything you need on your next adventure. Don't forget to expect the unexpected and bring backup supplies.
Speaking of backups, the Jeep Gladiator comes with a full-size spare tire, so you can replace it on the go without missing functionality. A small replacement tire just wouldn't cut it when you're off-road and far from assistance, after all. The spare tire is behind the rear axle underneath the truck bed. If you're not in a position to get to it, use the towing hooks to get yourself out of trouble immediately.
6. What's in a Name?
The Jeep Gladiator's name first came to be in 1963, when it was also on a pickup truck. In 1972, that model had a name change and became known as the J Series pickup. While the new 2020 Jeep Gladiator isn't the first of its name or even the first Jeep pickup truck, it's the first time this brand has offered a pickup since 1992.
As you explore the badging on a 2020 Jeep Gladiator, you may also notice that it has 419 stamped into its bed. That's the area code for Toledo, Ohio, the manufacturing site of Jeep Wranglers. The connection may be clear when you're looking at this truck since the front end is just like what you'd expect to see on a Wrangler.
7. Let the Air in
One of the best features about Jeeps is that they lend themselves so nicely to an open-air experience, and the Gladiator is no different. You can remove the doors and take "Freedom Panels" out of the roof to experience the great outdoors in a way that you just can't in most other pickup trucks. This is just one of the many ways the 2020 Gladiator stays true to its legendary Jeep genetics.
As a special treat, the new Jeep pickup truck also has a new feature that outdoor enthusiasts will love. You can fold the windshield down. Feel the breeze in your face, get an unobstructed view of the trail, and enjoy one of the most immersive open-air driving experiences available from any vehicle.
8. It Has a Rubicon Trim Level
If you've already fallen in love with the Wrangler Rubicon, you'll be equally enamored with the Jeep Gladiator's top trim level. Rock rails and protection along the overhang of your rear bed will help you go anywhere and do anything with more confidence than ever. That's nice because you'll definitely want to make the most of your oversized all-terrain tires, which practically beg you to take them off the road and into nature.
Other features include an improved four-wheel-drive transfer case, which can even be geared for off-road adventures at low speed. The shock absorbers come from Fox, it's got a removable front sway bar, tall fender flares, and more. Locking front and rear differentials from Tru-Lok are a tremendous asset for when you want to push this vehicle to its limits.
9. Take Your Music With You
State of the art technology like Android Auto and Apple CarPlay make it better than ever to enjoy your favorite tunes while you're driving, and Jeep doesn't want to make you stop listening once you've reached your destination. Look for a removable Bluetooth speaker behind the back seat of a 2020 Jeep Gladiator. When it's docked, it will charge as you drive.
Then it's ready to go with you so you can keep the audio going once you exit the vehicle. As with everything else Jeep makes, this Bluetooth speaker is rugged enough to stand up to all kinds of conditions. It's built to resist dust, water, and just about anything else you'll find at the end of a long journey in your Jeep pickup truck.
10. Diesel Power
There will be one 2020 Jeep Gladiator engine option when the truck first launches: a 3.6 liter V6. That engine is plenty capable in its own right, but a brand like this is always looking for ways to add power and capability. As such, they'll be adding an option for a diesel engine sometime not long after the initial launch. It may not have as much towing capacity because of increased cooling needs, but it's sure to work wonders for your torque.
11. Haul and Tow
As mentioned above, this truck has some of the best storage options you're ever likely to find. Sometimes, though, even a pickup truck doesn't have enough space for everything you need to move. The 2020 Jeep Gladiator has best-in-class capabilities with 7,650-pound towing capacity available. Combine that with a best-in-class 1,600-pound available payload, and you're looking at an absolute beast.
With all that gear behind you, you'll be looking for ways to keep it secure. Jeep has your back with tons of innovative safety features. The Trailer Sway Control system will notice as soon as your trailer starts to sway, then get it under control. Smart braking will apply pressure to individual wheels as needed until your trailer is back in line.
12. Make it Your Own
Jeeps were originally created to serve in military applications, so they've seen challenging scenarios all over the world since then. Experience is a great teacher, and this new 2020 Gladiator has learned all kinds of tricks from its predecessors. It's ready to perform anywhere, no matter what kind of demands you place on it.
To that end, it's extremely customizable. It's as easy to personalize as the Wrangler is, right down to the ways you can configure your bed. Cover it with a soft-top canopy to add a little bit of protection and a lot of style. If you need even more, try a full-enclosed hard cap. Pop-top caps, roll bars, and more give you plenty of chances to make your 2020 Gladiator unique. Outfit it with available upgrades directly from Jeep, or peruse the ever-growing market of aftermarket parts.
New 2020 Jeep Gladiator Truck Pickup Miami
People looking for a new Jeep Gladiator in Kendall, Doral, and Miami can find what they're looking for here at
Planet Dodge Chrysler Jeep RAM
. We're proud to serve the entire South Florida area with the highest-quality vehicles available, including the brand new 2020 Jeep Gladiator. Even the list of facts above doesn't do this new vehicle justice, so you should really come in to see it for yourself.
Our friendly staff has excellent product knowledge, so they can help you identify the Jeep Gladiator trim level and features that are best for you. Stop by today, or
contact us
to learn more.