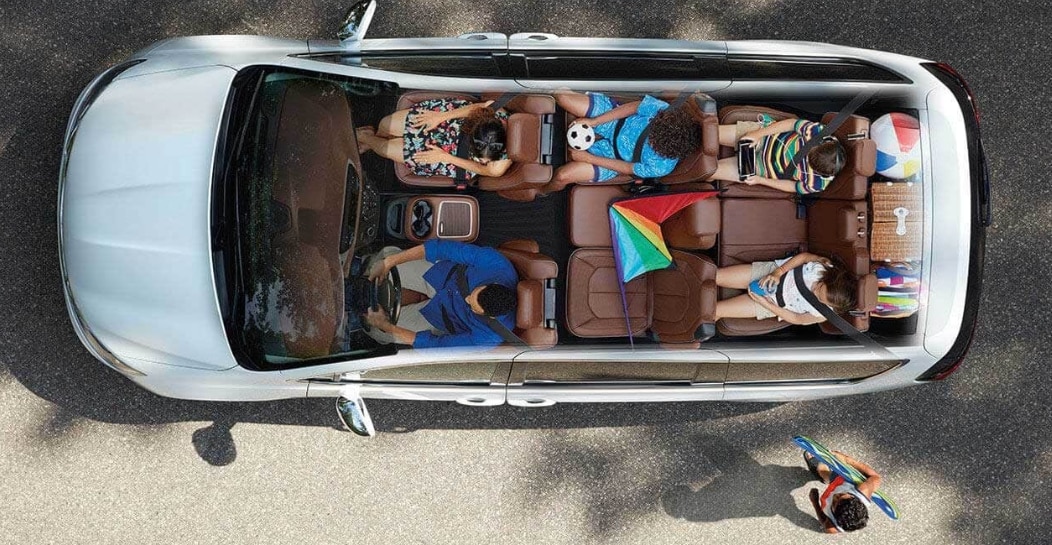 If you are in the market for a minivan, chances are you are looking for a perfect combination of passenger seating and storage capacity. Minivans, in general, provide more space than the average car or SUV when it comes to storage capacity. However, their ability to haul seven to eight passengers–plus special features such as sliding doors–make them the top pick for families everywhere.
When you are running down your checklist for summer car care, consider the advantages when you maximize your space with a minivan.
What Is Stow and Go Seating?
Although a typical minivan or SUV contains some sort of rear seating that can fold down or be removed from the vehicle when not in use, Chrysler minivans take this concept to the next level. With Chrysler stow and go seating, the seats can be tucked neatly into a cavity hidden in the flooring of the vehicle, rather than simply being folded down.
When the seats are stowed away, the cargo area is empty from floor to ceiling; increasing the storage capacity in comparison to vehicles with regular fold down seats. If the second row is still needed for seating and does not need to be tucked away, the third row can be fully stowed away separately, maintaining the number of seats while creating extra trunk space.
Not all minivans on the road have stow and go seating, but Chrysler provides two models in multiple trim levels with the amazing feature. The Chrysler Pacifica and Chrysler Pacifica hybrid each include stow and go seating options, though with a few notable differences.
Chrysler Pacifica Minivan
Repeatedly named a "Best Buy" by Consumer Digest and considered one of the top safety picks on the road, the Chrysler Pacifica is the complete package in the world of minivans. A variety of trim levels are available in the Pacifica; all loaded with convenient and useful features for a family on the go.
Pacifica L. Generous standard features and technology.
Pacifica LX. Added 17-inch wheels and power comfort.
Pacifica Touring Plus. Increased temperature controls, power sliding doors, and remote start.
Pacifica Touring L. Leather with heating options plus a roof rack.
Pacifica Touring L Plus. Top-of-the-line added technology and audio options.
Pacifica Limited. Upgraded leather, hands-free doors and liftgate, integrated vacuum, and sunroof.
Though the trim levels vary in features (i.e., seat coverings, tires, and color options) the stow and go rear seating capability remains the same throughout each model. In the Chrysler Pacifica model, all rear seats are able to fully fold and stow away into the floor of the minivan.
This includes both middle row seats and the entire third row, allowing for quick and convenient conversion from a full passenger vehicle to full cargo space when need be.
Chrysler Pacifica Hybrid Minivan
Similar to the Chrysler Pacifica model, the Chrysler Pacifica Hybrid also includes some significant differences. The main difference in the engine itself. Drivers interested in finding ways to be more environmentally conscious often gravitate toward hybrid engines due to their lower carbon footprint. Modern hybrid engines switch seamlessly between gas and electric usage when necessary, so the driver does not have to worry about losing a charge mid-trip.
Not only does a hybrid vehicle contribute to saving the environment, but they also protect the green in your wallet. Hybrids use much less gas and often qualify for a federal tax credit, resulting in a greener planet without having to sacrifice function, performance, or style.
The Chrysler Pacifica Hybrid minivan comes in fewer options for trim levels; however, all trim levels are loaded with premium features when it comes to luxury and technology. Although six trim levels are available on the Chrysler Pacifica, the Chrysler Pacifica Hybrid comes in a choice of three available trims with differences in seat coverings and added perks.
Pacific Hybrid Touring Plus. Loaded with technology and features SafetyTec.
Pacifica Hybrid Touring L. Perforated heated leather seats and a power liftgate.
Pacifica Hybrid Touring Limited. All the bells and whistles with upgraded leather, hands-free features, and optional upgraded wheels.
Of particular note is a difference in the stow and go feature in the Chrysler Pacifica Hybrid versus the Chrysler Pacifica. The hybrid model still features stow and go seating in the third row with the seats neatly tucking into the floor for maximizing trunk space. However, the second-row subfloor space used for stow and go seating in the Pacifica is not available in the hybrid model. This space is instead utilized for the battery pack. While the second-floor seats are not able to be tucked away, they are fully removable, allowing you to create the same amount of cargo space.
Test Drive Stow and Go Vehicles Today
When you are searching for a new car in Miami, proper care must be taken to select the right set of features for your particular situation. If you love the idea of stow and go seating in your minivan, contact Planet Dodge Chrysler Jeep Ram today to set up a test drive for your Chrysler Pacifica or Chrysler Pacifica Hybrid