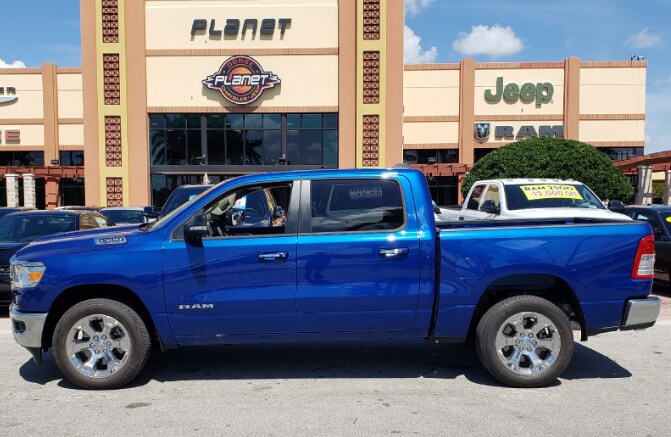 Whether you are cruising the highway pulling a trailer or blazing your off-road trail, nothing compares to the ride of a Ram truck. If you are a loyal Ram driver, you will love the new Ram models in 2019. And if you are not already the proud owner of a Ram, these new models are all the convincing you need.
All-New Ram 1500
Discover why the 2019 Ram 1500 won Truck Trend of the Year. You'll love the sheet pulling power, dynamic exterior, and innovative interior features of this popular new truck. Inside and out, it has the capabilities needed for any job.
This sturdy 4x4 has an impressive V8 engine and towing capacity of up to 12,750 pounds. It not only pulls more than most other trucks, but it can most likely pull your old truck and its load as well. Thanks to the high-strength steel frame, you and your Ram 1500 can handle anything that comes your way.
For 2019 Ram 1500s will have the storage capacity you need for any project. While the cargo bed is designed to hold a 4x8 sheet of plywood perfectly, the new Ram tailgate uses a two-door design to accommodate any project.
Once you move to the interior of the award-winning truck, you will discover an ergonomic cockpit filled with all the technology you need for an unmatched experience. Uconnect 12.0 helps you keep in touch effortlessly and hands-free, while a panoramic sunroof gives you and your passengers a beautiful view of the great outdoors.
In addition to these exciting features, the 2019 Ram 1500 has:
• A V8 engine
• A max payload of 2,300 pounds
• A Cargo bed of 61.5 cubic feet
• 12-inch touchscreen
• Blind-spot monitoring
• Guided parking
Ram 1500 Classic
There is a reason this 2019 Ram Truck is a classic. Starting at a great price, this truck packs a lot of excellent features and rugged capabilities. A 5.7-liter Hemi V8 engine gives you an impressive 395 horsepower, while the interior design and durable exterior are perfect for your day-to-day needs.
There is plenty of high-strength steel to keep you safe, with six airbags to offer well-rounded protection for you and your passengers. Just like the 2019 All-New Ram Truck 1500, the Classic is versatile, innovative, and designed to handle any job, both on and off the road. The durable exterior comes with a range of options, from a 5-foot 7-inch bed to a 6-foot 4-inch one. Choose from a variety of tailgate options, or select a spray-on bedliner for maximum durability.
The interior has lots to love with Uconnect, comfortably designed seats, and multiple options for you to create your dream truck. Backup cameras and parking features take all the guesswork out of hooking up your trailer and squeezing into the perfect spot.
• V8 engine
• Max payload: 1,920 pounds
• 8.4-inch touchscreen
• Backup monitoring
• Guided parking
• 10,710 pounds of towing
Find Your Favorite Today
Choosing your favorite 2019 Ram is the hard part. Once you have found the best option for your lifestyle, head to Planet Dodge Chrysler Jeep Ram. Whether you visit our store or shop online for new vehicles, you will find the all-new trucks you need to stay on the road, get the job done, and look great doing it. If these 2019 options are not for you, check out our entire selection of Ram trucks for an old classic.