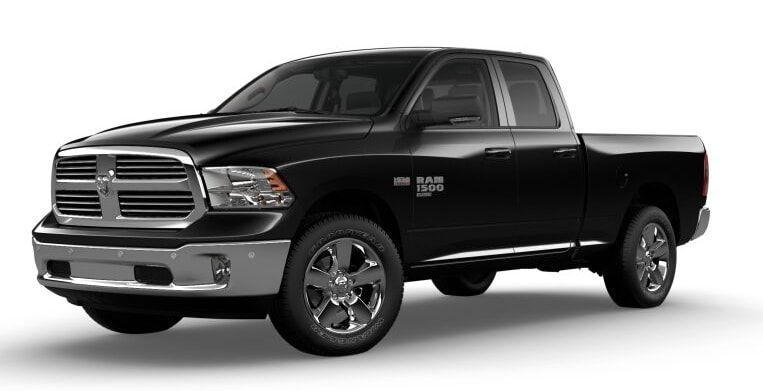 When it comes to 2019 Ram trucks, the all-new Ram 1500 is a clear frontrunner. This powerful vehicle combines style, luxury, and functionality to create a pickup truck with the grit and power to tackle anything while you ride in ultimate comfort. Because of its impressive build and powerful engine, Cars.com has named the Ram 1500 the best pickup truck of 2019. So, if you are looking to upgrade to one of the most impressive vehicles on the market, check on the re-engineered pickup truck to see how it can help you rule the road and tackle life head-on.
Stylish Exterior
The 2019 Ram 1500 is built with layers of heavy metal and authentic wood to create a sturdy and durable frame. Even with such a heavy frame, this impressive model weighs 225 pounds less than other Ram Brand models. A solid metal exterior overlays the frame with an attractive, sculpted design that ensures you can ride in style. You can even customize your ride by choosing from the following colors.
• Patriot Blue Pearle
• Granite Crystal Met
• Diamond Black Crystal Pearl
• Ivory
• Maximum Steel Met
• Delmonico Red Pearl
• Billet Silver Metallic
The exterior is further enhanced with a unique and multifunction tailgate. The 60/40 split tailgate makes it easy to load large items, clean out the bed, and step up into it. Lift down the tailgate for full access or to grab a seat. Even with its many uses, this tailgate does not compromise on strength and capability.
Variety of Improved Safety Features
Whether you are hauling a huge load of cargo on a trailer or are on vacation with the kids in the backseat, you can feel safe riding in this powerful vehicle. Six standard airbags, both along the side and in the front, offer great cushioning to keep you safe in the event of an accident.
The powerful steel frame also works to keep you safe, while advanced technology helps reduce blind spots and maneuver the truck safely. This model is the first to have built-in technology that recognizes when you are pulling a trailer and accommodate for the extra length automatically.
Luxurious Interior
While you may be drawn to this vehicle because of its attractive exterior, the interior is just as impressive. Passengers have plenty of room to stretch out and relax on the comfortable leather seats. A sunroof offers a beautiful, panoramic view of the sky for your passengers to enjoy while the noise-cancellation features drown out the sound of the busy road so you can travel in peace.
This pickup truck is further enhanced with advanced technology. The 12-inch touchscreen display makes navigation easy, while Sirius 360L provides you with endless entertainment on long trips. Multiple charging ports ensure you always stay connected while on the go, turning your truck into the ultimate luxury vehicle.
Powerful Engine
While other aspects of the Ram 1500 may draw you in initially, the incredible, uncompromised power of the engine will win you over. This truck is capable of hauling loads of up to 12,750 pounds and has a superior payload of 2,300 pounds. The hybrid engine combines eTorque technology with a 5.7-L V8 motor so you can tackle an off-road trail or pull any load. With this amount of power and grit, this truck can take you anywhere you want to go while ruling the road.
This impressive vehicle is the ultimate combination of power and style. With its luxurious interior and attractive exterior, the 2019 Ram 1500 is tough enough to tackle while helping you ride in luxurious comfort. If you are interested in checking out Ram trucks Miami, visit Planet Dodge Chrysler Jeep Ram to test drive the impressive, all-new 2019 Ram 1500 today!