If you loved muscle cars when you were growing up, you probably looked forward to owning one yourself when you got older. However, older cars are expensive to maintain, and finding the right one is a hard bargain to locate. When you do, the amount of interest it will generate among other muscle car enthusiasts could quickly drive that car's price out of reach.
Luckily, buying an older model isn't your only option. The 2019 Dodge Challenger puts a new spin on an old car. The V8 models feature that unmistakable muscle car rev. This is backed by a powerful engine that goes up to 797 horsepower. Despite being a high-performance car, this vehicle is easy to handle on the road, doesn't dart forward unexpectedly for the novice driver and comes jam-packed with safety features to protect life and limb.
Whether you're a long-time Dodge fan or you're thinking of giving up your Camaro for a ride with way more bragging rights, there are tons of reasons you should consider the 2019 Dodge Challenger as your next car. Before making your decision, here are a few 2019 Dodge Challenger facts to get you started.
The Overview
The first thing that will grab your attention is the looks. Most muscle cars on the market are a tamer version of their predecessors, but the Challenger has that aggressive wide body posture that turns heads. More details on that later, but for now, know that this car won't fit in on the streets any time soon.
The Challenger features six trims this year — nine if you count the Wide body versions — and no two are exactly alike. From the interior to the exterior to the metal logos and under the hood, you will spot a number of key differences that help you to narrow down your choice. However, all trims are just more or less luxurious versions of a sporty two-door coupe that has seating room for up to five people.
Finally, the only high-performance car you'll find with more horsepower than the top trim is the limited-edition Dodge Demon. If you've been dying to get your hands on that now rare 840-horsepower-car, the 2019 Dodge Challenger SRT Hellcat Red Eye may be your very best bet.
The Six Main 2019 Dodge Challenger Trims
With so much to love, it's hard to choose just one, but this can help. Generally speaking, most people feel it's not quite a Challenger without a V8 engine, so drivers on a budget often still go for an R/T at least. For the ultimate almost-Demon bragging rights, you can't beat the Hellcat Redeye. However, for a novice driver or a new parent, the lower-end trims still provide plenty of horsepower and that aggressive styling Dodge-lovers crave so much.
Dodge Challenger SRT Hellcat Redeye — MSRP starting at $70,245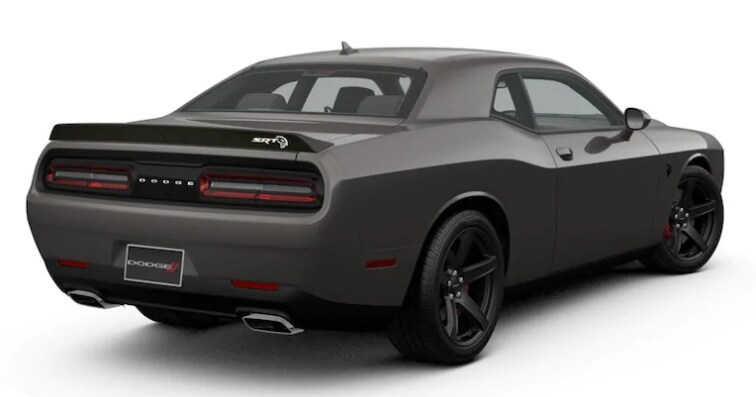 If you have the 70k-plus to spend on a high-performance car, the Dodge Challenger SRT Hellcat Redeye is sure to give you value for every dollar you spend. Available in colors that range from pitch black to plum crazy purple, you're sure to find the right look that works for you. You can also choose a slim design for a sleek look or the Wide body kit for a more aggressive appearance.
This car is only available in an eight-speed automatic transmission because building a manual transmission system to handle the 707 pound-feet of torque would be a challenge. A few of the many add-ons you can purchase include exterior stripes and graphics, ventilated seats, xenon headlights, and an 18-speaker surround sound system.
Dodge Challenger SRT Hellcat — MSRP starting at $59,245
Take things down a notch with the SRT Hellcat. Chopping $10,000 off the purchase price costs you nearly 100 in horsepower, but 717 horsepower is a lot more than most people need anyway. This trim features a fully functional dual-snorkel hood, which is also included in its pricier brother. Additionally, it has an available Wide body package. Some of the remarkable features it comes equipped with include six-piston Brembo brakes, better suspension than the lower trims, and fender flares so you can add wider tires for even better handling.
Dodge Challenger R/T 392 — MSRP starting at $39,245
Cutting $20,000 off the price tag drops the horsepower to 485. The Dodge Challenger R/T 392 is still a powerful car with a line lock for burnouts on the drag strip, a four-piston Brembo brake system, high-performance suspension, and configurable driving modes. For the more car-like features you would expect to find, which are also included in the higher trims, you might enjoy the 8.4-inch touchscreen, a premium surround sound system, the heated steering wheel, and heated sporty cloth seats. Note that the Wide body kit is also available for this car.
Dodge Challenger R/T — MSRP starting at $34,545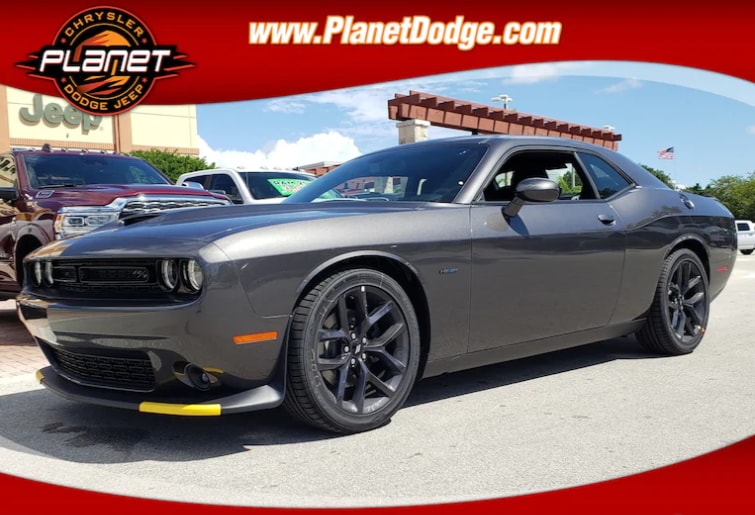 As previously mentioned, the Dodge Challenger R/T is as low as you can travel down the trim ladder and still get a V8 engine. This is available in either a six-speed manual or an eight-speed automatic transmission and pushes out 375 horsepower and 410 pound-feet of torque. This car features 20-inch wheels with upgraded brakes compared to the lower trims. You also get an active sports exhaust and a limited-slip differential. Both the Scat Pack and Scat Pack Widebody upgrades are available for this trim.
Dodge Challenger GT — MSRP starting at $30,645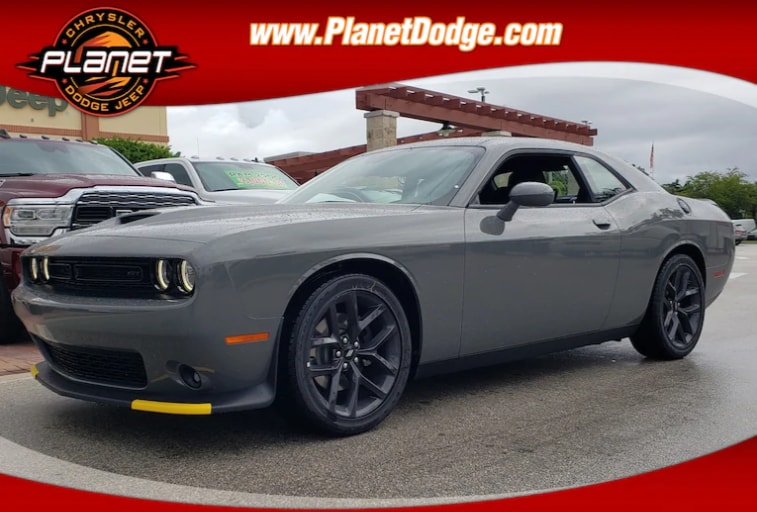 With the Dodge Challenger GT you dip down to a V6 engine, which doesn't have the roar of the V8 engine but packs a good punch. You can expect a respectable 305 horsepower and 268 pound-feet of torque. This is the trim that makes the first jump to 20-inch wheels. However, if you decide to get the AWD version, then you get demoted to 19-inch wheels in exchange for better handling. The traditional car features you might look forward to including 60/40-split-folding rear seats, a performance steering system and shift buttons on the steering wheel.
Dodge Challenger SXT — MSRP Starting at $28,095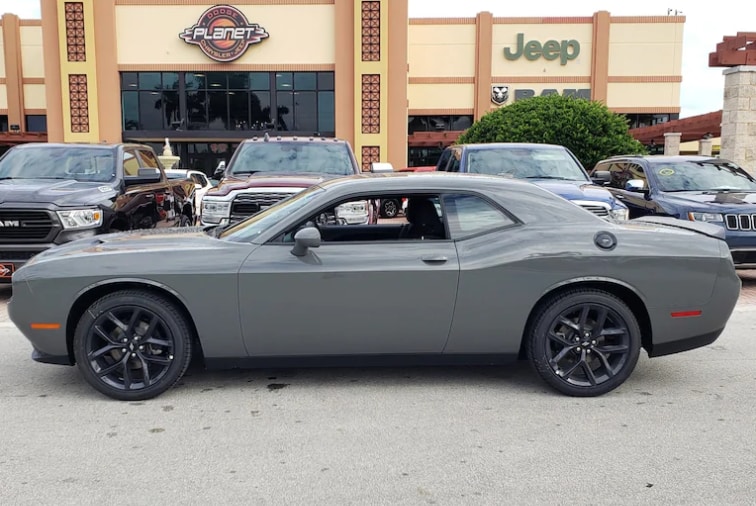 The Dodge Challenger SXT features the same V6 engine as the GT trim. Standard features include 18-inch wheels and a variety of colors to choose from. In the interior, you might appreciate the leather-wrapped steering wheel, dual-zone climate control, auto-dimming rear view mirror, and a six-speaker sound system. If you choose the all-wheel-drive model, then you get upgraded to 19-inch wheels and a better braking system. The car also comes packed with the usual things you might expect, such as a rear view camera, Bluetooth and a 7-inch touchscreen.
The Overall Driving Experience
Car enthusiasts who tested the Challenger report that it is surprisingly easy to drive thanks to smooth acceleration and upgraded suspension. This is a great car for highway driving, and the AWD models can take you through dirt, gravel, and snow with ease. When it comes to maneuvering in the city, drivers should think less like a sedan and more like a low-riding compact-SUV. This is primarily for drivers with the Wide body kit as this adds a lot of meat to the muscle.
The interior of the vehicle is stylish and functional, and the seats help to absorb some of the road vibrations. The V6 models are fairly quiet, but once you get to the V8 models, especially with the wider tires, you may notice more road noise. This may be a turnoff for people who are used to their modern-day sedans, but for the true muscle car lovers, that's just another ingredient in the thrill of the ride.
The Cargo Space for Drivers and Passengers
Coupes have a bad reputation for having plenty of sportiness and very little room. It's no wonder that so many men get talked out of buying this style of the car when they have or are about to start a family. This car, however, has plenty of room. Even the tallest drivers can fit comfortably. If you are on the taller end, consider giving up the sunroof option as some drivers say they enjoy more headroom without it.
As for the backseat, there's plenty of room for two adults or three kids. If you do decide to travel with kids in the backseat, parents and fun aunties and uncles will be glad to know that all models feature three sets of lower anchors and tethers for children. You might also enjoy the large trunk space, which opens up even bigger if you let the rear seats down.
The Safety Features and Safety Tech
It's impossible to stock a car with nearly 800 horsepower and not have a conversation about safety. Because of this, Dodge provides plenty of techs to keep even new drivers out of trouble. Many of these were already mentioned above. Some additional features include our easy-to-understand tech control, rear view parking sensors, rear cross-traffic alert, and blind-spot monitoring.
Safety also comes down to the engineering and design of a vehicle, so Dodge added a few extras. First up is the crumple zones to absorb some of the impacts, especially in a high-speed collision. This helps to protect the driver and passengers from serious injury. Outside of the crumple zone, the frame of the car is solid and built from high-strength steel to protect everyone inside the vehicle as best as possible.
When it comes to rear-end impacts, Dodge offers active front head restraints to minimize injury to the front-occupants of the vehicle. Bad weather can also pose a safety risk, so Dodge added rain brake support and even have rain-sensing windshield wipers available. Finally, you can bet there's plenty of airbags from back to front and on all sides.
Many people view high-performance cars as dangerous, but that depends on who's driving. In fact, Dodge even has a special school for drivers of our high-performance vehicles. Here are some of the safety skills covered:
How to react in emergencies that require a sudden stop

How and why drivers need to maintain a safe following distance

The importance of keeping vision elevated

The fundamental physics of their car
As a final note on safety, we strongly caution drivers not to rely entirely on the tech provided in our vehicles. While Dodge stands by the tech's efficiency and accuracy, the best proactive measures for safe driving involve your own vigilance. Always drive hands-free with few or no distractions, especially at high speeds. Check your mirrors and do an over-the-shoulder check for pedestrians and cyclists. Most importantly, always obey the rules of the road.
The Final Wrap Up
If you've been dreaming about getting your own two-door coupe or a brand-new muscle car, now's the time to make it a reality. As much as we hope you enjoyed this article, reading 2019 Dodge Challenger facts won't be enough to help you make a decision.
Instead, see us at Planet Dodge Chrysler Jeep and test drive one of our Challengers today. Once you get behind the wheel, you'll have a hard time resisting the urge to drive that baby home. Give us a call at (786) 336-1742 to get started.